As your dog ages their requirements change, whether that's thinking about a senior dog diet or adjusting schedules to fit around your older dog.
This includes what toys they play with or activities they participate in. Your ageing friend may no longer be able to run and grab a Frisbee, or leap around playing fetch for hours on end, but that doesn't mean that their urge to play has gone!
Also consider that when dogs age, their sight and hearing may deteriorate, so when it comes to toys for older dogs it's usually a good idea to get bright ones, which can also be scented, noisy or flavoured. Keep reading to find out the best stimulating dog toys for your older pooch.
Toys for older dogs
When your dog becomes older you may think that they'll no longer want to play, or might not have the energy to play with you.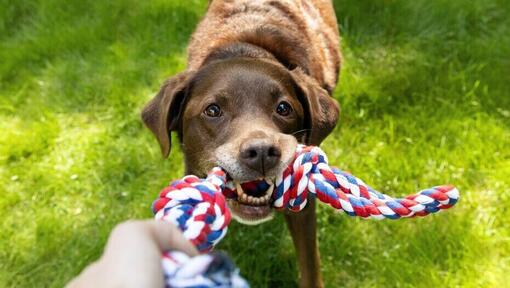 Even though your dog is no longer the energetic pup they once were and you can't play for as long as you used to, it doesn't mean that you should rule out playtime altogether! You just need to change your older dog's toys, shorten how long you play and adjust how intense and active your play times are.
These toys can help you both make the most out of your play times and you may be surprised at how much fun your older dog can still have!
Chew toys for sensitive teeth
With older dogs it's still important to keep caring for their teeth, much like you did when they were younger. The best way to do this is with a chew toy, as not only does chewing help keep their teeth clean, but it can also help alleviate stress!
Stimulating dog toys
As dogs age, their brain function can begin to slow down, but if you regularly exercise their brains and provide mental stimulation it can help them remain mentally active. So, it's a great idea to introduce stimulating dog toys such as puzzles or interactive toys into their playtime. These are also ideal for older dogs if they can no longer run around like they used to, as it can still give them some much-needed stimulation.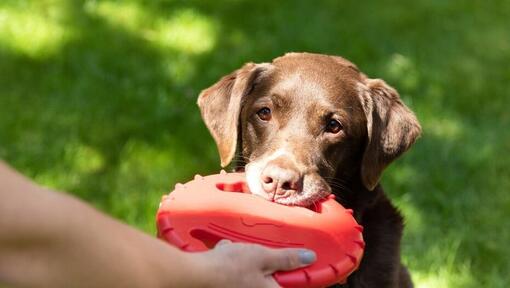 Their unique range of interactive toys come with a variety of different challenges, from flip and slide puzzles to a dog casino that encourages your dog to engage their brain to unlock the treats. There are puzzles on offer for all dog types and intelligence levels!
Toys for older dogs with reduced vision
Just like with humans, as dogs get older their vision can deteriorate and they can develop certain eye problems. It's important to consider this when choosing toys for older dogs, as they may not be able to see well enough to be able to catch things or locate toys.
Dog toys for poor hearing
Much like with their eyesight, your dog's hearing can also worsen with age. Your dog's favourite toys when they were younger may have been squeaky toys that they'd bite and squeak for hours on end. But now that they're older they may have lost interest as they can no longer hear that satisfying squeak. Where your older dog may experience partial hearing loss, they probably still will be able to hear higher frequencies. 
Hide and seek games
A game of hide and seek is perfect for engaging your dog's mind and curiosity, it encourages your dog to work their brain by hiding their favourite treats and toys around the house. This is also particularly suitable for older dogs as they may no longer be able to exercise as much as they used to, and this game can satisfy your dog's need for play and discovery.
These are just a few suggestions for toys for your older dog – there are loads of toys and games on the market to cater for your dog's changing needs so have a look around and find out what your dog likes!
Stimulating dog toys are incredibly beneficial as they're a tool that can help your dog's brain remain active. We also recommend regular training for your older dog to maintain brain function even as they age.
Want to find out more about caring for your senior dog? Discover how old your dog is in human years with our handy tool, next!