How and when should I feed my dog DENTALIFE®?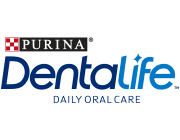 DENTALIFE® oral care dog treats should be fed to your dog once, daily.
There is no specific time of day these treats should be fed to your dog. Follow directions on the label for recommended feeding amount and guidelines.
It's important to make sure you are feeding your dog the right DENTALIFE® dog treat based on their size. Feeding a small dog a DENTALIFE® treat meant for large breeds will not be good for their mouth and provides them with more calories than their size/breed needs. Take a look at the back of DENTALIFE® packs for more information about which size of chew your dog needs.