At what age can a dog chew a DENTALIFE® treat?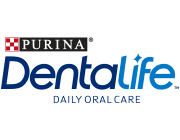 We recommend you start giving a dog DENTALIFE® dog treats after they are one year of age or older.
Feeding a dog under the age of one a DENTALIFE® dog treat daily could cause the puppy to eat over their daily calorie requirement.
DENTALIFE® is also suitable for senior dogs over the age of seven as long as they have good strong teeth that can handle chewing. If your dog has a dental condition that affects the way they chew, you should check with your vet before allowing them to eat a DENTALIFE® dog treat.