Is PURINA DENTALIFE® dog treats safe to be consumed?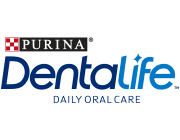 DENTALIFE® Oral Care dog treats are completely safe for dogs.
They have been designed by experts to have a chewy porous texture, ridged design and delicious chicken flavour. As long as your dog is at least one year old and has a full set of teeth they will be able to chew and enjoy these treats.
It is important to remember that if your dog does have gum conditions or a significant number of teeth missing, you should check with your vet before feeding them dental treats like DENTALIFE®.