Is DENTALIFE® the best way to clean a dog's teeth?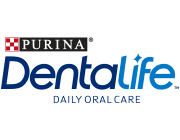 Our dental oral care treats are one of the ways to help clean a dog's teeth, aside from brushing.
This is because each DENTALIFE® treat promotes chewing in hard to reach places. This chewing helps to remove plaque and tartar which if left to build up could cause dental conditions.
This being said our chews should not be the only form of dental health care you give your dog. We also advise you take other precautions and measures to make sure their dental health is the best it can be. Brushing is the best way to help take care of your dog's dental health. Consult your nearest vet for more information on how to care for your dog's teeth.